Ladies Kickboxing Classes in Witham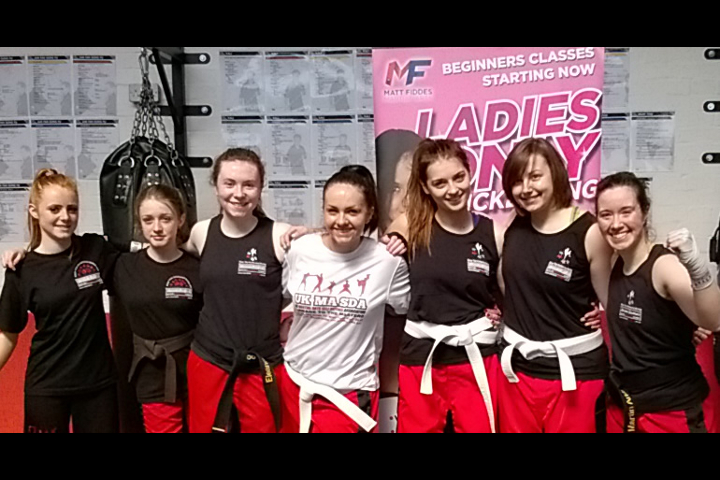 Looking for Ladies Only Kickboxing Classes in the Witham, Colchester or Chelmsford area?
Ladies Only Kickboxing at Laurence Sandum's Educational Arts Academy is an EXCELLENT WORKOUT, blending western boxing with kicking from Karate, Taekwondo and Muay Thai.
For Women of all Ages!
Our Ladies Only Kickboxing focuses on fitness and practical self defense skills
Affiliation
Laurence Sandum's Educational Martial Arts Academy is a member of United Kingdom Martial Arts Self Defence Association (UK MASDA) and Matt Fiddes Martial Arts. The UK MASDA has a strong lineage to some of the best Kickboxing instructors in the World.
Why Choose Laurence Sandum's Eductional Martial Arts Academy
We focus on:
Safety
Fun
Self Defence
Confidence Building
Developing Self Confidence
Leadership Skills
Success to Black Belt and Beyond
Award Winning Martial Arts Academy
If you are looking to learn Ladies Only Kickboxing in Witham then please contact us to arrange a FREE Private One on One session with one of our qualified instructors, where we can discuss your individual requirements.
Classes in Witham
Tuesday's 7-8 PM

Thursday's 8-9 PM
Classes in Boreham

Monday's 7-8 PM
Friday's 6-7 PM
Classes in Great Baddow
Wednesday's 6.30-7.30 PM
Simply call us on 01376 509064 for more details or click here to send us a message.