Japanese Jiu Jitsu Seminar – January 2012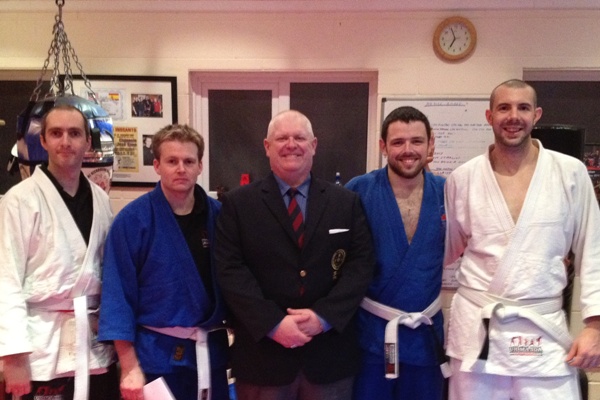 7th January 2012 started a jam-packed year off with a bang when Sensei Tom Starling came to Laurence Sandum's Black Belt Martial Arts Academy in Chelmsford to give a seminar on Japanese Jiu Jitsu.
The day started with the very basics of the system and continued to build as we were worked methodically through the IBF Jiu Jitsu syllabus.
Interestingly, there was a clear similarity to techniques seen in other forms of martial arts taught at the academy; including Judo, Brazilian Jiu Jitsu, the Filipino Martial Arts (Kali), and Jun Fan Gung Fu.
Immediately after the seminar, a small group, pictured above with Sensei Tom Starling, took a grading examination, in which all were successful.
Thanks to Sensei Tom Starling and his assistant Sensei Hayden Michaels for travelling to the academy and delivering an outstanding seminar.
Laurence Sandum's Black Belt Martial Arts Academy is looking to host hosting Sensei Starling again in 2013. Please get in touch for further details.